As a dispensary receptionist, it's your job to master the customer intake flow in order to provide great service and an efficient experience. But knowing how and where to start can be daunting, especially if you're new to cannabis retail.
If your dispensary does not have a receptionist, this article may not be for you. However, it might be a good idea to consider adding this role to your roster and workflow. You may think that a security guard is good enough to kick off the customer journey at your dispensary, but consider this—adding a receptionist can be integral in providing an amazing experience for customers and unlocking potential sales opportunities.
With Meadow as your guide, taking that first step couldn't be easier. Our tailored solution helps receptionists build a system for success, allowing them to create repeatable processes with verifiable data—so customers feel comfortable and confident when entering your cannabis retail storefront.
Here are some tips to help you master the customer intake flow and keep your customers coming back as loyal patrons for years to come.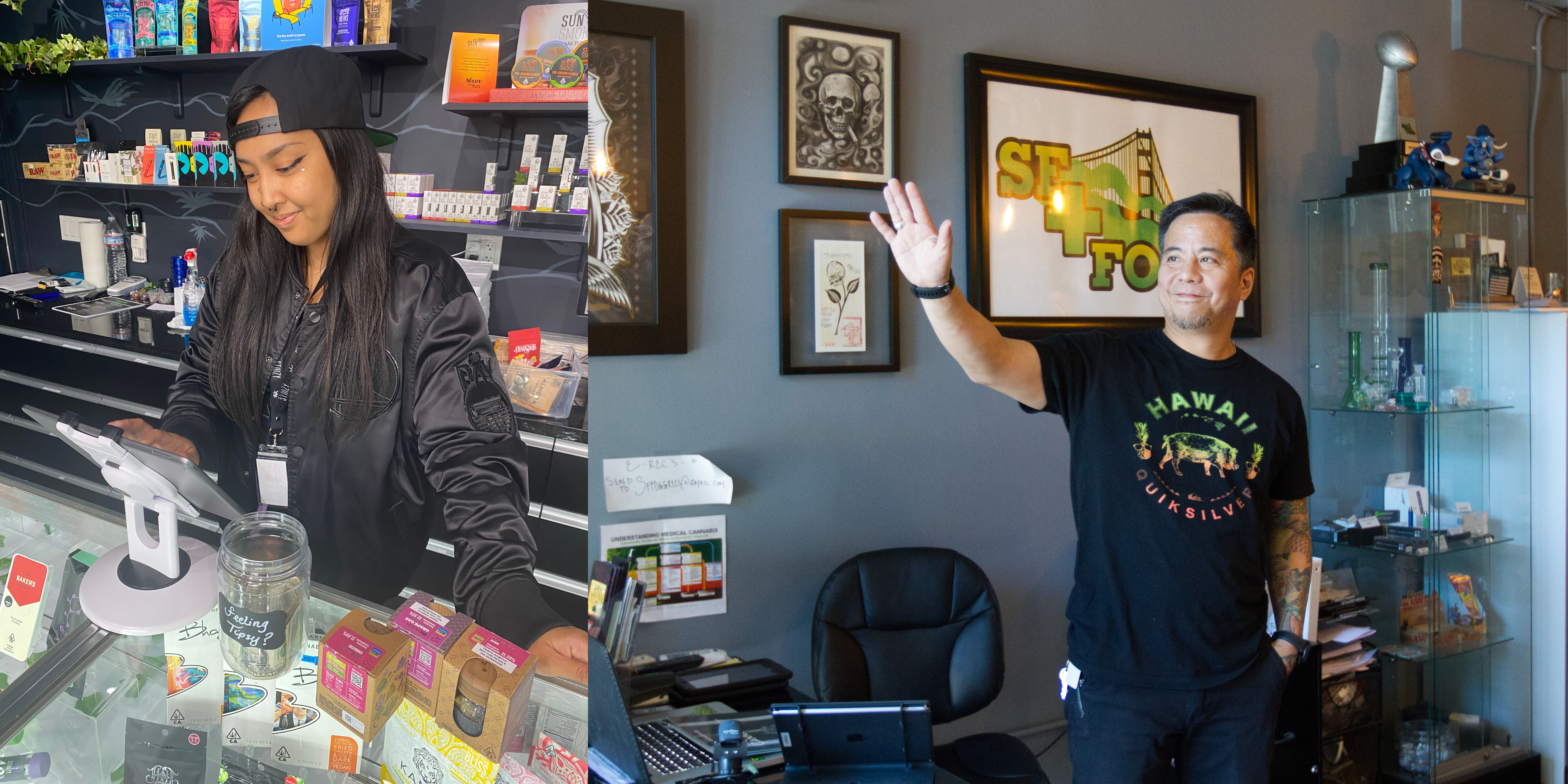 Find the Right People and Train Them Well
As a dispensary receptionist, your primary job is to provide exceptional customer service while managing the front desk. From greeting customers as they enter to verifying patient paperwork—there are plenty of responsibilities that come with this role. That means who you hire for this position must have excellent customer service skills, multi-tasking capabilities, and a high window of tolerance for busy service days—they need to be able to stay calm, cool and collected and offer a warm welcome, even when there's a line out the door. Training them with clear SOPs and best practices will help make it possible to create an inviting experience for every single customer.
Things to look out for when considering candidates for this role:
Experience: It is important to ensure that a potential receptionist has relevant experience in the field, as they will be the first point of contact with customers. It's essential that they possess professional skills (and ideally experience from another dispensary or cannabis culture in general).
Reliability: Look for someone who is reliable and trustworthy, as this role requires dealing with confidential information and valuable assets.
Communication Skills: The ideal candidate should be able to communicate effectively in both verbal and written form in order to answer phone calls, interact with visitors, and leave clear, typed notes within customer profiles inside the point of sale system that can be useful to budtenders and other teammates.
Once hired, receptionists must be trained on your point of sale platform. Fortunately, as technology evolves, there are now solutions available to streamline the process and make it easier for you to handle high volumes of clients efficiently and effectively. Every system is different and the steps may vary.
Meadow's best-in-class intake flow feature can help you simplify administrative tasks like document collection so you can focus on providing an excellent customer experience every time. Quickly train your staff with Meadow Mastery–the free, online, self-paced video training resource that can be used to quickly get new employees up to speed. There is a course that was specifically created for the front desk check-in role.
Read more: How to Create A New-Hire Training & Onboarding Plan for Your Dispensary Staff
Create your check-in process:
Greeting customers and verifying their medical recommendations and IDs is an important part of the dispensary experience in states like California, New Jersey, Michigan and Massachusetts. Before you get started there are a couple steps to take: getting familiar with your point of sale platform as each offers different features; understanding shop flow such as how many people can or should be on the retail floor at once; then finally checking customer's IDs for authentication purposes along with proper medical recommendations when needed.
Compliance and HIPAA are must-knows for receptionists at dispensaries. It's essential that they understand the relevant laws to keep customers safe and in the know. That's why it's so important for dispensary staff to get the right training on legal requirements, so they can make sure their shop meets all regulations while safeguarding customers' privacy.
Make a great first impression with Meadow's cannabis dispensary check-in process. Featuring the fastest, simplest, and most secure flows available to quickly process customers, the check-in flow provides flexible options that can be tailored to the unique experience of your retail space. With automatic age verification and automated tax calculations, customers can be processed in as little as 45 seconds, while allowing you to create custom groups, opt-in customers for future loyalty programs and text communications, and mark where customers heard about you to help you hone your future marketing efforts. Learn more about Meadow's point of sale features.
Let's walk through a simple receptionist check-in flow:
Greet your customer: 👋 A receptionist greets customers by providing a warm, welcoming, and professional atmosphere. Upon entering the building, they will typically greet the customer with a friendly smile and polite greeting such as "Welcome" or "Good morning!" Bonus tip: customers enjoy being remembered. As they develop themselves in this role, a great way to greet a customer is to say "welcome back," instead of "new or returning?"
Verify their ID: In order to shop at a licensed dispensary, customers must show a valid driver's license, government issued identification card, passport, or military photo ID card.
Keep an eye out for fake IDs:
Ragged or square edges
Bumps or air pockets under lamination
Corners are peeling
Weight or thickness is different than other IDs
Over or under-used holograms
Watermarks missing
Misspellings or discrepancies with the expiration date, birthdate, height, hair color, etc
It is important to verify the age of customers who are purchasing cannabis. Customers between the ages of 18-20 can shop only if they have a valid doctor's recommendation or physician's letter. It is essential that receptionists verify these documents before allowing the customer to purchase.
The steps for verification are usually listed on the recommendation form itself, and often simply require entering the corresponding recommendation ID and expiration date. Once verified, employees should take a picture of both the customer's ID and the doctor's recommendation for their records as an extra precautionary measure. If a customer presents an expired doctor's recommendation and is not 21 years of age or older, then unfortunately they will not be allowed to shop in the store.
Bonus tip: 💡 You might want to consider creating an opportunity for customers to apply for a Medical Recommendation while they wait. This has potential to increase basket sizes for customers who like to shop and who like to smoke. Customers who have medical recommendations can purchase more than recreational customers. You can do this with an iPad or tablet in the lobby.
Create or update the customer's profile: For new customers, it is important to take the time to collect and store all available information. This data can be invaluable when it comes to future reference points for reporting or marketing campaigns. Additionally, asking questions like "where did you hear about us" can help inform marketing budget decisions and strategies around where more attention or resources are needed. When it comes to returning customers, it's good practice to confirm their existing data is accurate and up-to-date. Check customer notes for any outstanding issues or recent events they may have experienced; many dispensaries use the customer notes field to record items such as product returns or instructions like "get manager on next visit."
Monitor the budroom and send in the next guest: As a receptionist, it is important to understand when the next customer can enter the retail floor.
A few strategies that may be helpful include: closely monitoring cameras or windows to check how busy the sales staff is and allowing customers in only when there are sufficient personnel to help them; providing social distancing markers inside and outside of the store, or creating a clear queue that is easy to follow. Then, be sure to notify customers immediately of their turn so they don't have to wait in line longer than needed.
A great customer service technique to try during especially busy times is to engage customers in conversation while they wait. As the receptionist, you can ensure the customer has all of the necessary questions and suggestions ready before they enter the showroom, helping to minimize waiting times for other customers. Additionally, chatting with a customer provides an opportunity to connect and create a more personal experience.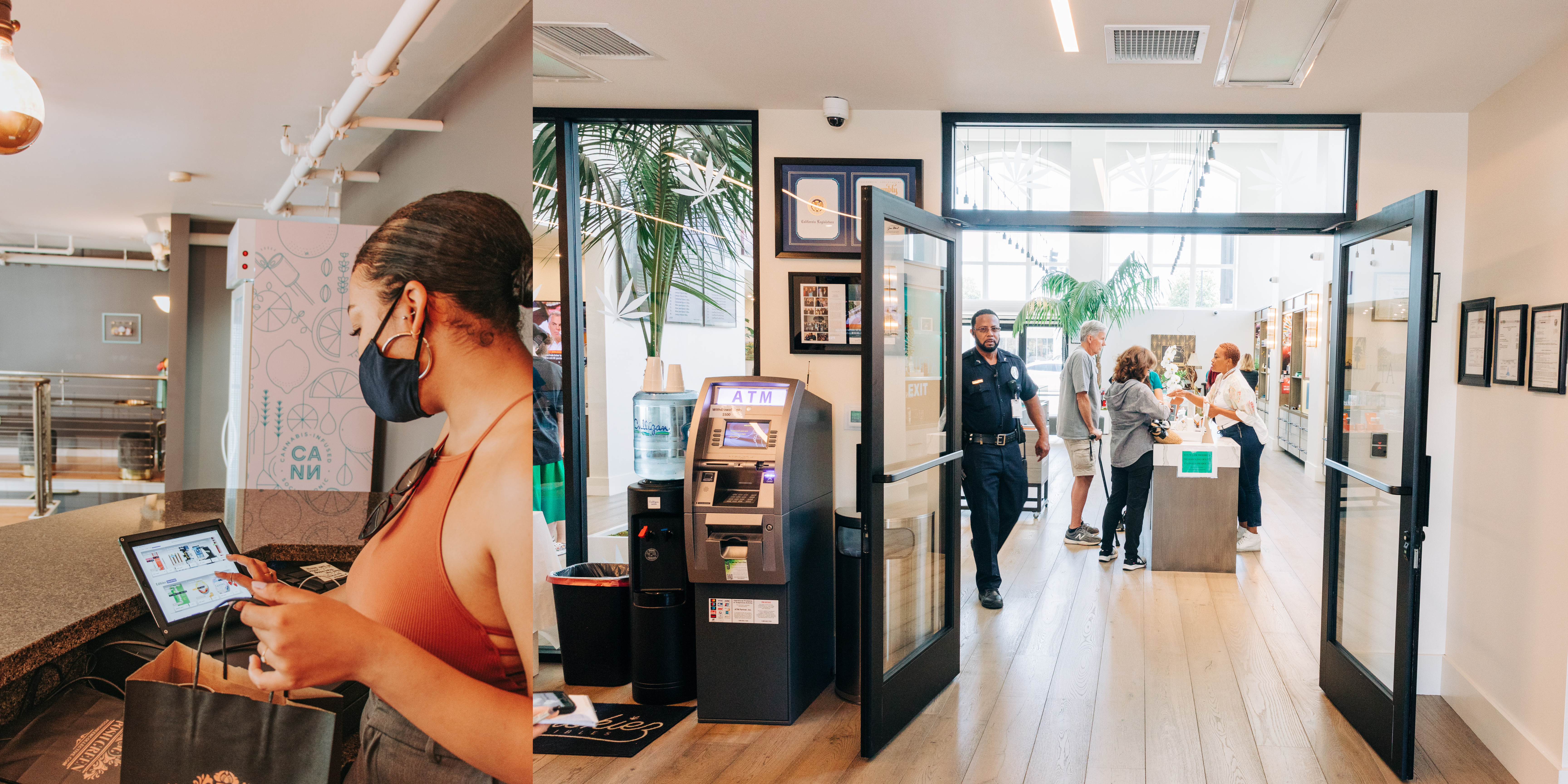 Maximize the role:
Maximize your retail sales by taking the receptionist station to the next level. Learn how to create an engaging customer experience through effective conversation, providing helpful suggestions, and gaining customer insights that can inform future sales. Gain an understanding of how a warm welcome and personalized service will lead to increased satisfaction, higher profits, and long lasting relationships with customers.
Create sales from inside the lobby: Optimize your retail sales with omnichannel opportunities from the receptionist station or lobby. Omnichannel sales are a strategy that enables customers to shop in multiple ways. This type of selling allows customers to have access to product information and purchase products from anywhere at any time. These channels can include your lobby in various ways.
Give customers the convenience of quickly purchasing their needs even if waits are long. Understand why it's important to have omnichannel sales--with its ability to increase customer satisfaction, drive up profits, and build lasting relationships. Discover how Meadow can offer powerful support with its omnichannel approach right inside your lobby:
Kiosk Mode: Make your lobby more inviting and convenient with an extra iPad, tablet, or kiosk stand. With just a single link to an easy, secure shopping experience, customers and visitors can browse through your menu while they wait. They can even place their desired order for pick-up if they know exactly what they're looking for. Offer your customers the convenience of being able to shop anytime with this simple solution.
Drawerless iPad: On especially busy days, speed up the wait with an extra iPad in Drawerless mode. With a drawerless shift, you can create an order at POS without selecting a payment type or amount. You can also update existing orders (for example changing products, discounts or packages). For example, on a holiday like 4/20, get the orders flowing to keep the line moving by creating orders for pick-up with a drawerless iPad.
Express Check-out: Make it easier for customers to pick up their orders with Express Check-out. Set up an additional point of sale station inside the reception area, dedicated exclusively to pick up orders. Advertise a quick and efficient check out experience if customers place their orders ahead of time. Reduce customer wait times by encouraging them to take advantage of the Express Check-out option.
Create sales from outside of the shop: Train receptionists to monitor multiple channels, such as phones and live chat, providing rapid responses with accurate information. This will create a positive experience for customers, increasing the likelihood of repeat sales.
Take Phone Orders: Offering phone support and orders as part of a receptionist's duties is an essential part of the omnichannel sales experience. By providing customers with the option to place phone orders, you are giving them added convenience and accessibility. Having a well-trained receptionist on staff can also help streamline processes and ensure high quality customer service for both in-person and phone orders. This provides customers with a seamless shopping experience, regardless of where they make their purchase.
Live Chat: Offering a live chat option on your website can be a great way to increase sales and enhance the customer experience. This allows customers to ask questions quickly and get answers in real-time, providing a more personalized shopping experience. For busy shops, having a receptionist monitor the chat ensures that all of your customers' inquiries are handled promptly and with care. Additionally, this removes the need for customers to wait on hold or leave messages that may not be answered, creating an overall positive customer experience that can result in increased sales.
Curate an experience inside the lobby: Customers do not like waiting. Give your customers a reason to stay, despite the wait, with the right vibes. Make sure they are aware of what you have to offer by placing a visible menu in the lobby. Give them something interesting to do while they wait, like providing magazines or reading materials. Add additional comfort with the right furniture and lighting. Furthermore, decorate your shop's lobby with art and music that showcase its unique atmosphere. If someone should be in charge of maintaining this part of your store, look no further than the receptionist. However, atmosphere isn't everything, your staff plays a role in this too. Having an outgoing receptionist who isn't afraid of chatting up your waiting customers can impact the customer experience greatly.
Mastering the customer intake flow at your dispensary is important for providing customers with an efficient, helpful experience. This will help to increase sales while also creating a positive reputation for your business. Taking the time to train and mentor your receptionists in all aspects of customer service will ensure that every customer receives the care and attention they deserve.
Read more: 7 Effective Ways to Bring New Customers Into Your Dispensary
Be sure you compare this SOP template with all local and state regulations in your area to ensure compliance. Regulations are always changing; please continue to check your workflows with all regulations in your region.